INTEL LUMINOSITY RANGE - Most Popular components combined in one deal!
Click below to customise your Intel i5 Luminosity system or read the online reviews of the system.
" Due to issues caused in transit, the CPU Cooler had been affected, this resulted in us seeing around a 15-20c temperature increase which reviewers reflected on - this is unfortunate - we are now supplying a log with the temperatures during test here at Palicomp, this will put your mind at ease when buying the i5 Luminosity - we will also give you a free upgrade to either of the next two CPU coolers on the upgrade list if you quote 'FreezeMe' at checkout"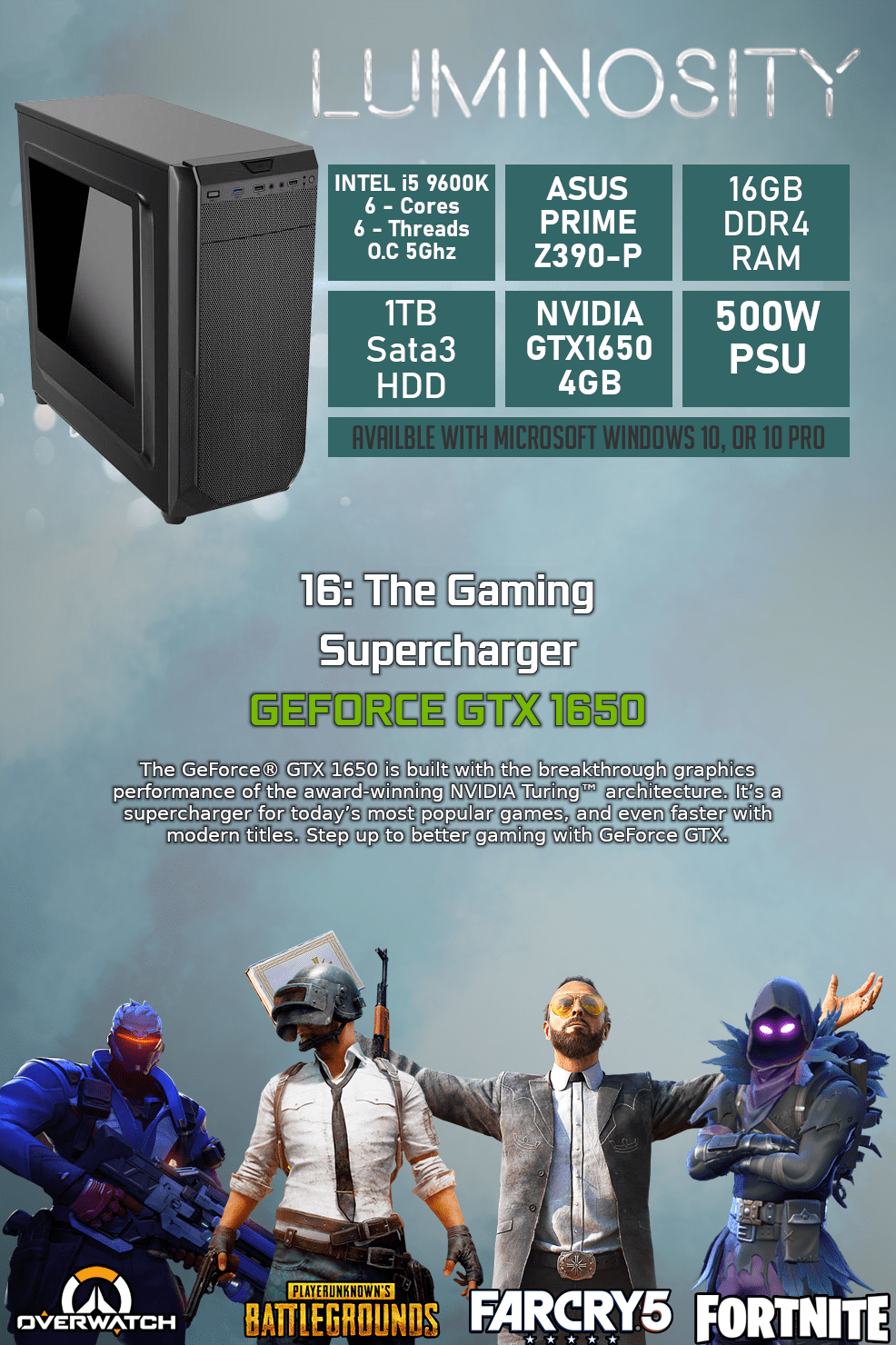 The Palicomp i5 Luminosity - our first system sent to the media for review with the latest Intel Kaby lake processors. With an out of this world 5Ghz overclock as standard makes this system a high end performance system within the £800 price bracket. Featuring an Nvidia GTX1050 Ti 4GB Graphics it can take on gaming or just about anything else you throw at it at reasonable settings . The 16GB of DDR4 RAM is a generous amount of RAM for the most intensive tasks including gaming and high end video work. Storage is basic, we know, but you can now add your own storage configuration with M.2 drives becoming mainstream. The slick, bright transparent case is becoming a favourite with our customers and is very easy looking on the eye with the insides on show. An ASUS 24X DVD+/-RW drive included to take care of all reading and burning needs for CD's and DVD's. Supplied with Windows 10, 8.1 or 7 64Bit fully installed as standard ready to go out of the box and the disc is provided for future re-installations.
Ideal for: Mid Gaming / Home Entertainment/ Office use
Recommended Upgrades ADVANCED - OS Tuning For Best Performance For Windows 7+8+10 / NVIDIA GTX1060 3GB / 256GB Samsung M.2 PM961