Create your own INTEL PC
Choose your range to create your own Intel Custom PC
All our Intel PCs can be customised so you can build your own dream gaming desktop
You can start by choosing which Intel range, then choose your own configuration
Can't see the options you want?
Contact us via LiveChat or call Sales 01270 898 104, or go to the Quote Beater
Our custom INTEL PC systems are the most competitively priced in the UK and can fit any budget.
All of our PCs come with FREE Delivery to mainland UK.
Latest Desktop Intel Ranges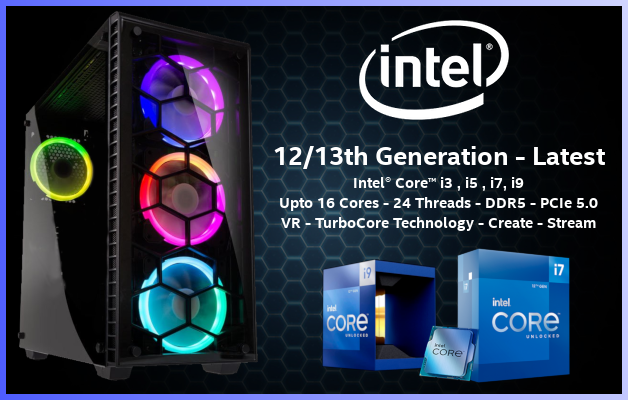 Intel 12th/13th Gen
Intel® Core™ i5 ,Intel® Core™ i7,Intel® Core™ i9

Intel® Core™ i9

Socket 1700 12th & 13th Generation Elite performance in games

Outshining 11th Gen - Innovate - Create - Intensive Multi-tasking


CREATE YOUR 12th/13th GEN INTEL PC. From £299.99 (DDR4)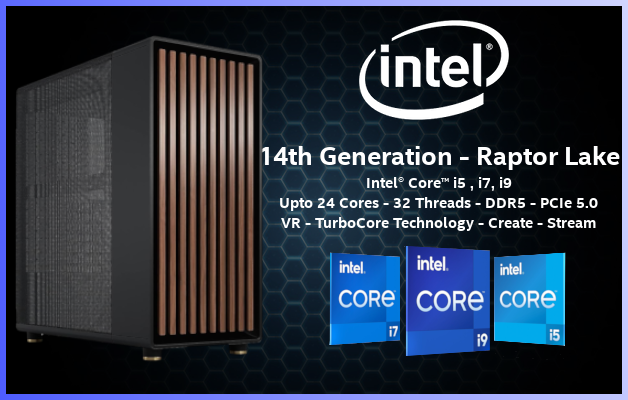 Intel 14th Gen - Latest
Intel® Core™ i5 ,Intel® Core™ i7,Intel® Core™ i9

Intel® Core™ i9

Socket 1700 14th Generation Elite performance in games

Latest Intel offerings - Extended Core Technology - Immersive Experiences


CREATE YOUR 14th GEN INTEL PC. From £589.99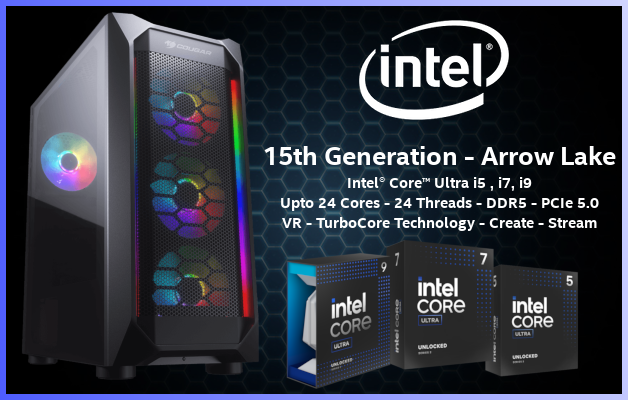 Intel 11th Gen Rocket Lake
Intel® Core™ i3 ,Intel® Core™ i5 ,Intel® Core™ i7,

Intel® Core™ i9

Socket 1200 11th Generation Elite performance in games

Outshining Previous Gen's - Innovate - Create - Intensive Multi-tasking


CREATE YOUR 11th GEN INTEL PC. From £299.99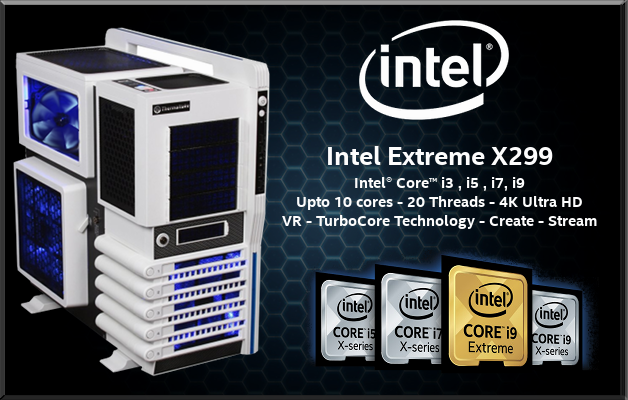 Intel Extreme Gen - X299
Intel i7 to i9 - 7th Generation Elite performance in games
Intensive Multi-tasking - Workstation - Office - Stream

EXTREME Performance - X-Range Creation Workstations
CREATE YOUR EXTREME INTEL PC. From £649.99