Click below to customise your i7 Predator system.

Ideal for: High Gaming / Workstation System / Home Entertainment / Office use
Recommended Upgrades ADVANCED - OS Tuning For Best Performance For Windows 7+8+10 / 4TB Sata3 HDD / 2nd nVIDIA GeForce GTX 1080 8GB PCI-E 3.0 Ready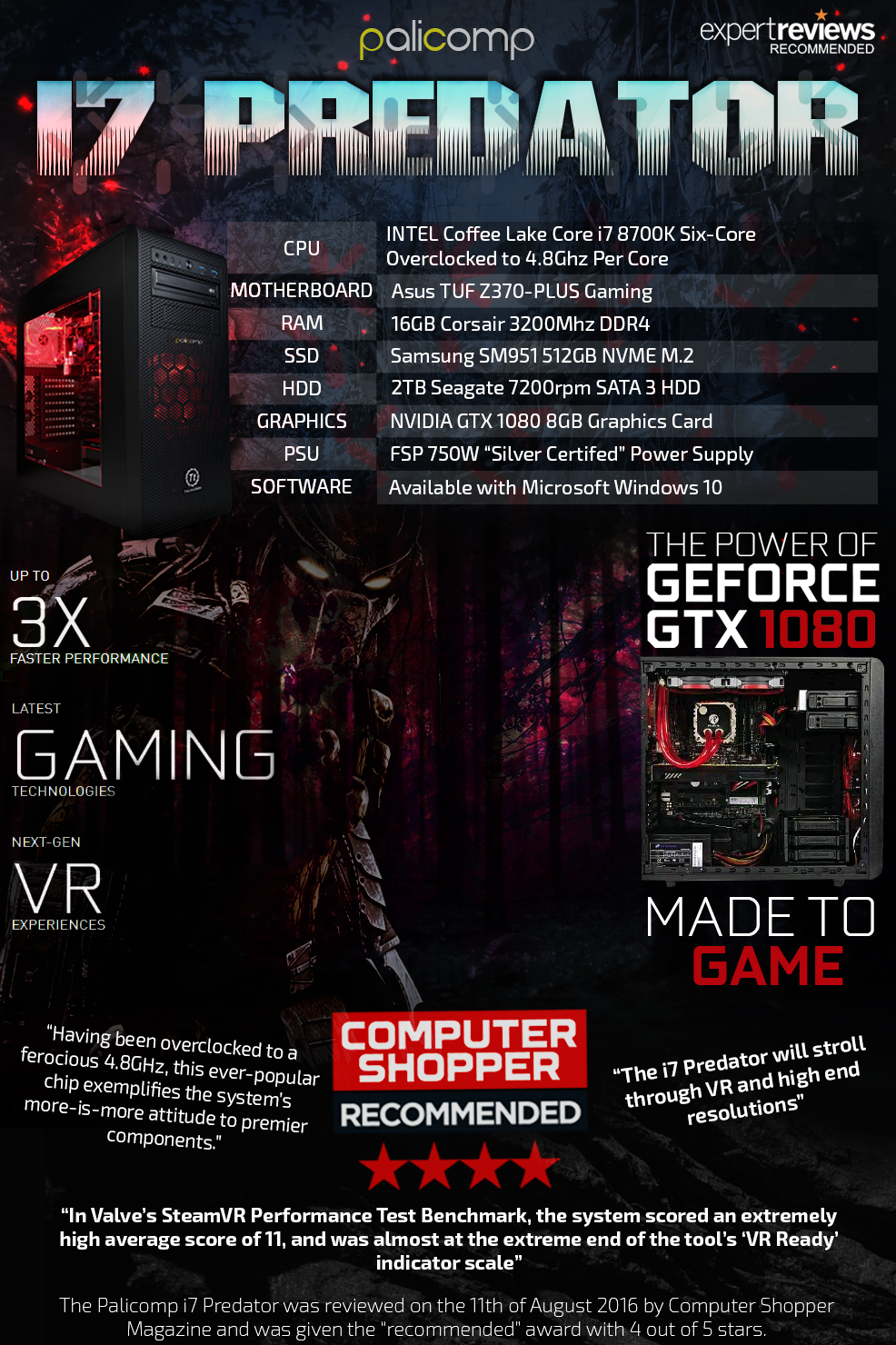 The INTEL i7 Predator, designed and assembled to meet the budget for customers who are looking to spend in the region of £1500 upwards. After being sent to Computer Shopper to be reviewed at an aggressive price-point, we were really impressed with the results when tested here. " Loud and Proud, the i7 Predator will stroll through VR and high end resolutions " - Computer Shopper Aug 16. The system has the latest Intel i7 7700K overclocked to approx 4.8Ghz, the feature rich STRIX Z270H Gaming motherboard from ASUS is coupled with 16GB of DDR4 RAM which is plenty for any of today's applications at a lightning 3200Mhz speed. There's also a Samsung M.2 Nvme sized at 512GB, which are becoming more mainstream now, this will be used for your Windows operating system, this will make the general speed of the system lightning quick which makes all processes run quickly as well as bringing that boot up time down considerably and we also include a 2TB purely for storage - for everyday use and gaming. On the graphical side of things we used the blistering GTX1080 8GB card, this plays all games on the market at more or less that top frame rates. The system has been put together in the spacious ThermalTake V31 case, a favourite among the technicians here at Palicomp, with the LED strip lights included this gives this system stunning looks, the LED's can be offered in 3 colours, this case has been found to be attractive with excellent features. Its a perfect system as an high end all-round household desktop gaming system with taylor-made Water cooling as standard now as a free upgrade. A Samsung 24X DVD+/-RW drive included to take care of all reading and burning needs for CD's and DVD's. Supplied with Windows 10, 8.1 or 7 64Bit fully installed as standard ready to go out of the box and the disc is provided for future re-installations.