Gaming PC Reviews
We usually don't like to harp on about our own PC reviews, but we felt that over 2012 and now into 2013 we are doing some fantastic work, are we slightly biased?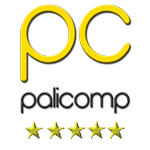 Its incredible how advanced desktop PCs are for an indepth, extremely powerful immersive gaming experience, some would argue that the PC is the most powerful system for computer game, its easier to upgrade, its diversity within gaming from playing Minecraft to flight simulator, Crysis to FIFA across multiple screens, in an eyefinity setup or as a media centre playing straight out of your living room HD TV, PC gaming is here to stay.
We are really, really proud of being the recipient of many awards and great reviews for our gaming pcs, from our first PC review in 2007, to NINE best buy awards and TWELVE five star reviews in the past couple of years alone beating some very stiff competition.
What we like to see in a good gaming pc. We have always tried to win every award we possibly can based on value for money, features and performance, it reflects well on us as a business, but most importantly it means our customers are getting the best deal which reflects in our pc reviews. This means: Quality CPU, we always try and squeeze in something more than expected in the price bracket, so getting an Ivybridge i5 overclock or an i7, give us optimum performance. Good GPU, like the CPU, we always try and squeeze something unexpected within the price bracket, so you are getting the optimum power for the best price that we can possibly make it. Extra Cool features, We have always tried to incorporate a large hard drive or SSD with a blu-ray drive or a fantastic monitor and keyboard/mouse set up.
Some of our recent PC reviews include:
Alpha Phase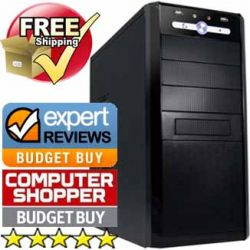 IvyBridge Core i5 3570K
8GB DDR3 & Intel HD4000 Graphics
Blu-Ray Combo Drive
1TB SATA
CIT Knight Case
Price: £499.99
  Expert Reviews/Computer Shopper said: "Perfect for upgraders or anyone who just wants a desktop with a serious CPU, this systems perfect if you want power on a budget" – 5 STARS
Alpha Samurai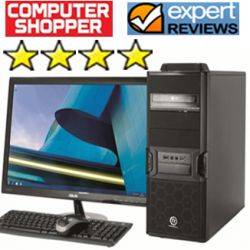 Intel Core i5 3570K
16Gb DDR3 and AMD Radeon HD 7850 2GB
Blu-ray drive and 2TB SATA Hard Drive
Thermaltake BlacX Case
ASUS 24' HDMI TFT Monitor
Price: £999.99
  Expert Reviews/Computer Shopper said: "A blisteringly fast overclock provides impressive performance" – 4 STARS
Alpha Excite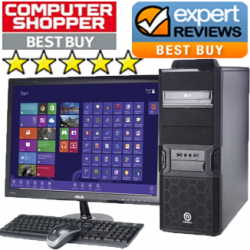 Ivybridge core i5 3570K
8GB DDR3 and AMD Radeon 7850 2GB
Blu-Ray Combo Drive and 2TB SATA Hard Drive
Coolermaster Elite 330
ASUS VS247H 24'' Monitor
Price: £830
  Expert Reviews/Computer Shopper said: Overclocked, great graphics, ample storage and great upgrade potential, this is a FANTASTIC PC" – 5 STARS.
Are we the best place to buy a pc? We certainly think we are the best place to buy a gaming pc, our goals are simple, give the best price and service to our customers which in turn will help us grow through happy recommendations, great reviews from pc magazines and a general satisfaction on our part, please give us a comment or like if you agree! (or not, we are always loving feedback!) We also want to use this small blog post just to thank our customers, friends, colleagues and reviewers for their ongoing support, we gladly appreciate it.