Crysis 3 - PC Specification Checklist
"Crysis 3 will melt your GPU" says Cevat Yerli at the helm of Crytek's development team. Is it just a marketing ploy? Maybe, but Crysis 3 will be one of the most power hungry PC titles to date. Last month Crytek and EA released a "minimum" specs system, which features some pretty standard parts, but what we at Palicomp have always said is why would an experienced gamer want to play a game without the full on quality and brilliance that they deserve?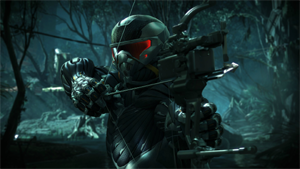 This is a different take slightly on our ultimate pc guide from last week. For the high end enjoyable Crysis 3 specification you will need the following components:
A Decent quad core CPU
We recommend getting at least an AMD FX-8Core or an Intel i5 Ivybridge to get the most out of Crysis 3, of course this needs to be a couple of with a serious GPU 
Heatsink
We need a super heatsink to cope with the power of those long multiplayer sessions, we strongly recommend water coolers, such as the Antec Kuhler H20 or the Corsair H100, and these will extract the heat straight outta the chassis.          
GPU with DirectX 11
We love AMD and nVidia graphics cards equally; if you order your AMD 7900 Series graphics card with us today you will get CRYSIS 3 FOR FREE! (Whilst stocks last) Alternatively, getting you a GTX680 paired with an i7-2600k CPU can be a top games choice. Make sure you pair your graphics card up with a decent CPU (quad core suggested!)                
An Awesome Power Supply
A 1050w or 1250w will definitely be your weapon of choice, the 1250 is recommended if you're using SLI/Crossfire combinations on your graphics cards.       
There is so, so many, but something big with great airflow, like Coolermasters Haf-X is an absolute must to maintain a good airflow in your system, it is also great for future proofing, it does the whole works, alternatively Thermaltake make some seriously awesome top end cases. 
Use Windows Vista, 7 or 8 – we recommend 7 at this stage!
...of course pairing them up and getting an SLI / Crossfire combo will work even better!  
The CM storm trigger keyboard is built for gamers particularly FPS players who want accurate actions made in split seconds; the CM storm sentinel mouse is smooth, accurate with crazy laser settings and a relatively good price point in the world of gaming mice.
The rest of your system has so many choices from your motherboard, monitors to your storage systems, these are so varied we really can't decide, when you choice your motherboard, do try and get a premium one that can handle both your GPUs if you choose two, some cheaper motherboards don't support overclocking of your CPU which can be a great addition to playing setups like Crysis 3!   If you want the game to be 2560 x 1600 res, we recommend going for the double card and an i7 processor for the ultimate, ultimate performance.
You now have the specification for a killer machine that will be futureproofed for some time across all the latest PC titles and yes there are some big ones expected this year We will see you and airstomp you on the battlefield on the 22nd February!