Not using this system for High End Gaming? See our popular Home Edition:


Click below to customise your AMD Avenger system or read the online reviews of the system.
The AMD Avenger has now been upgraded to the latest 2018 model - including DDR4 RAM

Ideal for: Mid Gaming / Home Entertainment/ Office use
Recommended Upgrades ADVANCED - OS Tuning For Best Performance For Windows 7+8+10 / NVIDIA GTX1660 SUPER 6GB / ASUS Prime B350M-A B350 Chipset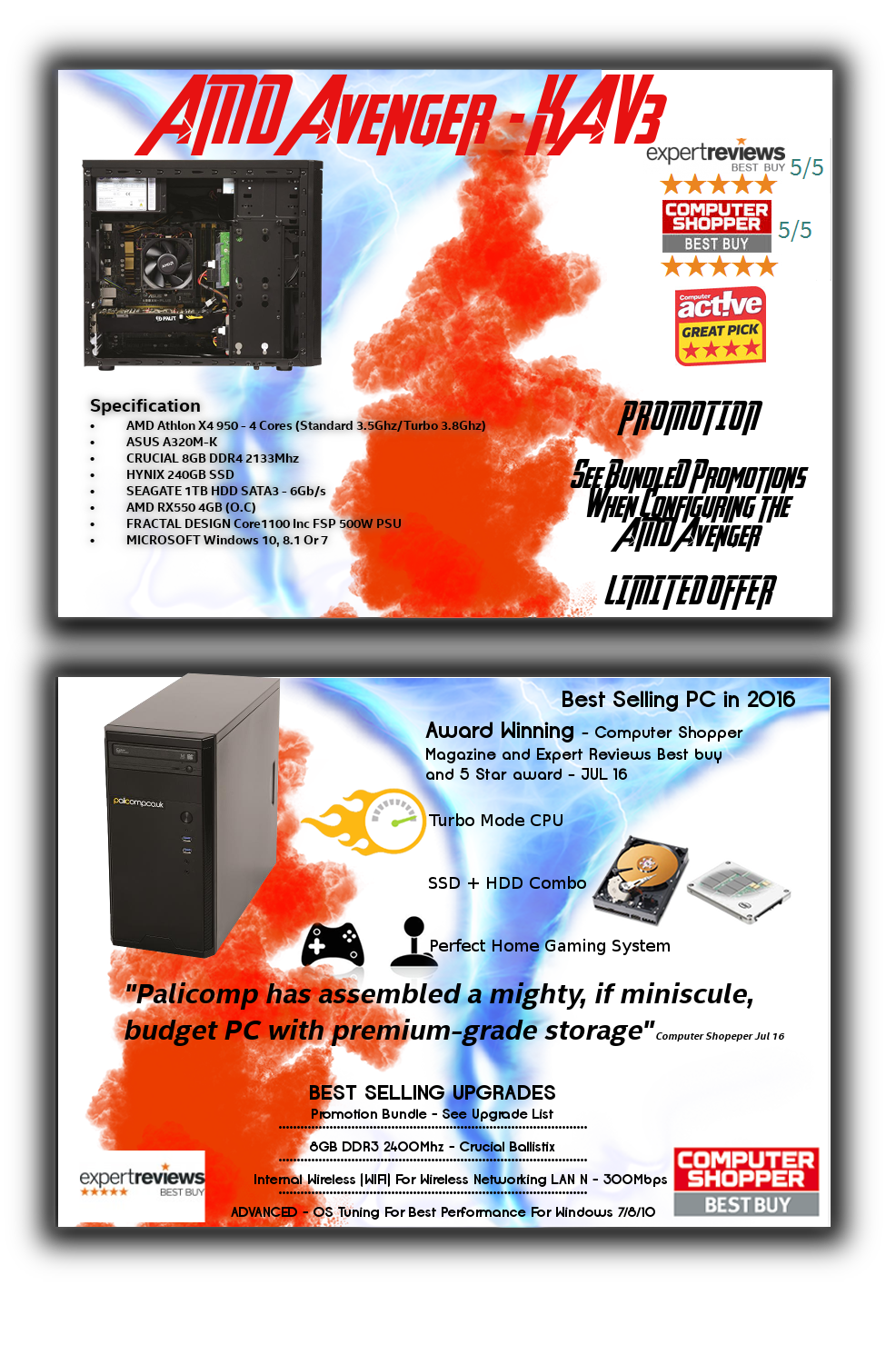 The Palicomp AMD Avenger - Palicomp has assembled a mighty, if miniscule, budget PC with premium-grade storage, this is the perfect gaming system for teenage gamers. We were given a £500 budget, so we decided to choose the latest Athlon Quad Core - which in 2018 is the Athlon X4 950. The nifty Core1100 from Fractal Design has always been a favourite with the quality of the case being to a high level. AMD's most powerful budget processor that gives great overclocking performance, the main competitor to the Intel Pentium G3258 Anniversary processor. Now with the new AMD RX 550 4GB Graphics it can take on gaming or just about anything else you throw at it at reasonable settings. Now with the latest 8GB of DDR4 RAM is generally the average amount of RAM included in majority of modern day PC's so this is more than adequate. The SSD and HDD Tag team gives the best performance for Windows and the games can be stored on the 1TB, but always a good upgrade to change this to a Hybrid drives if you want to cut the load times down. The beauty of these is that it will give you faster map load speed for non-stop performance and non-stop play. Get the kick of an integrated solid state drive (SSD) with the massive capacity of a desktop hard drive. A Samsung 24X DVD+/-RW drive included to take care of all reading and burning needs for CD's and DVD's. Supplied with Windows 10, 8.1 or 7 64Bit fully installed as standard ready to go out of the box and the disc is provided for future re-installations.